How To Start A Blog (Simple and easy steps)
You want to know how to start a blog or share your ideas to the world? Then you are in the right place.
Blogging is fun and requires hard work or let me say smart work. It allows you to share your creativity, ideas, sell products, make money etc. It is something you'd love to go into especially if you love writing.
I'll be explaining how you can start a successful blog in few minutes and also explain the common terms used in blogging community.
Blogger
A person who blogs
Web host
It's a server to help you store your blog files and put it up on the internet for the world to see
Domain name
It's the name of your blog e.g www.insidetrybizz.com.ng , www.google.com etc
Sub-domain name
Also the name of your blog but it appears in a different way because the blogger is using a free blogging platform e.g sparky.wordpress.com , https://goodfood.blogspot.com etc
Blogging Platform
This is where you design and store the contents of your blog which includes your posts, about you, products etc.
How To Start A Blog
1. Choose a niche
2. Buy a domain name and web hosting
3. Choose a blogging platform
4. Design your blog
5. Start blogging
1. Choose A Niche
This is the first and important aspect of blogging, you have to decide what you want to blog about, whether it's about food, sport, fashion etc. I'll advice you choose a niche that you'll never run out of ideas or creativity, and choose a niche you have passion for this way you'll not run out of ideas.
2. Buy A Domain Name And Web Hosting
In choosing a domain name you must select a name that is related to what you'd like to blog about and a name that is easy to remember e.g everyone can easily remember www.google.com, www.insidetrybizz.com.ng, www.sisiyemmie.com.
Don't select a domain name that is not related to what your blog is about;
e.g www.Johnskitchen.org and you blog on fashion, it'll send readers away from your blog.
Buy a domain name from a trusted domain name provider like qservers.net i love this domain name provider, they are reliable and you can easily contact them if you have any issue along the way. You can easily trust qservers and they services are very affordable, you can get a .com for as low as N3500 annually or .com.ng for N1000 annually. Go to qservers.net to choose your plan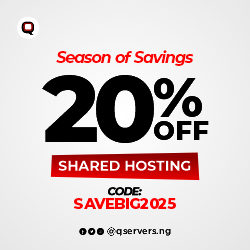 B)
web hosting
You must choose a web hosting provider that will not fail you or allow your site to be down at any time. I highly recommend
Qservers
as a good web hosting provider. You can search for reviews on
Qservers.net
and you'll see that they are doing a good job. Qservers is a nigerian web hosting company located at Centage Plaza, 5th Floor, 14 Allen Ave, 100281, Ikeja Lagos state and they host most websites in Nigeria.
You can get a free domain name + web hosting for as low as N3500 only...isn't that amazing?
Other web hosting providers are
Bluehost which is also good
Godaddy
Domainking
Whogohost
Etc.
Get a free .com.ng domain name and 2GB Space + 8GB Bandwidth + Free SSL Cert for N3,500 Only!
What are you waiting for register with qservers and continue with the process on How to start a blog.

3.
Choose A Blogging Platform
You can choose any blogging platform of your choice after you've registered with
Qservers.net
or any other web hosting company. Here's a list of some blogging platforms:
Wix
Blogger
Square space
Ghost
Wordpress
Most bloggers go for wordpress.org because you have control over your blog.
To install wordpress just go to your dashboard on your web hosting and install wordpress on it.
4.
Design Your Blog
Choose a template that is easy for your readers to understand, attractive, clear and bright. Arrange your menu well, add widgets etc.
These will help your readers find your blog attractive.
5.
Start Blogging
Write your first post and write it well so your readers will give you nice comments and always check out your blog.
Don't forget to share your blog on social media
I hope with this tutorial you've learnt how to start a blog this year.
Get a free .com.ng domain name and 2GB Space + 8GB Bandwidth + Free SSL Cert for N3,500 Only!
If you want to open a blog without much cost, I can open a blog for you and an affordable price.
Contact me on trybizz1@gmail.com